About Provita C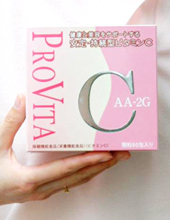 Provita C is the world's first nutritional supplement containing a stabilized long-acting vitamin C derivative. It has been internationally patented in 1999 through the PCT (Patent Cooperation Treaty) procedure and authorized in 2004 by the Ministry of Health, Labor and Welfare.
Conventional vitamin C supplements in tablet or any other forms have one thing in common: they are easily degraded. Our answer to this problem was AA2GTM (ascorbic acid 2-glucoside), a form of stabilized vitamin C that provides the benefit of maintaining a comparatively high level of vitamin C in blood over a sustained period of time, despite less frequent ingestion.
Provita C can be taken with other medication with no risk of interaction.
Great tasting powder packet that requires no water.
It melts in your mouth, offering a nicely balanced sweet and tart flavor.
One packet of Provita C contains AA2G vitamin C derivative equivalent to 250mg conventional vitamin C. (The Vitamin Society of Japan recommends taking 500mg vitamin C (two packets of Provita C) every day in order to maintain health and beauty and prevent common illnesses.)
Provita C contains three types of sweeteners, trehalose, maltitol and stevia, to help neutralize the acidity of vitamin C and make Provita C easy to take.
Maltitol and stevia are low in calories: one packet of Provita C contains only 6.3 kcal. This makes Provita C ideal for people with diabetes or those who are on a diet.