Purpose-Built Pull-Top Can Opening Utensils (Registered Utility Model)
Product Name: Opening Lure (Registered Trademark)
1. Background of Invention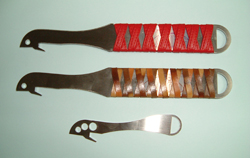 Because of its convenience, the pull-top can tab has been applied to most can types. However, for people unable to apply stress to nails or fingers for any of a number of reasons (physical, age-related and cosmetic) and for chefs who handle large amounts of canned goods, opening pull-top-type cans can be cumbersome. In order to resolve this issue effectively, careful consideration was given to the structure, strength, usability and design, with each age group and occupation as well as potential use in emergency or disaster situations factored into the development and manufacturing of our product.
Certain similar, simple can-opening goods (mainly, low-priced resin products) to date have left much to be desired in terms of strength, usability, design and other aspects. Their flaws, however, have yet to be addressed to this day. In this sense, a stable can-opening product has not been available on the market until now.
2. Slogan:
Works all round!
3. Defining Features:
(1) As illustrated in the attached diagram, successful can-opening is assured through the design, where pressure is simultaneously applied at two different locations
(2) Shape configurations that emphasize design and usability (great as souvenirs and commemorative gifts)
(3) High tensile strength suitable for opening cans
(4) Durability for consistent, long-term use
4. Suitable Locations and Job Types
(1) Professional kitchens and chefs
(2) Daily travel use, personal effects
(3) General household use (kitchen, living room, etc.)
(4) Emergency or disaster prevention kits
(5) Outdoor and leisure activities
Please note: Technology leasing and OEM available upon request.
Steps for Opening a Can Using Opening Lure (Canned Goods Version)