Development of New Material Processing Technologies

Our company's original technology makes possible press products using durable and light materials such as magnesium titanium. Being the lightest among the practically utilized metals, magnesium is commonly used in automobiles and cellular phones, while titanium alloy uses its corrosion-resistance and high specific strength in an increasing array of fields such as medical equipment, leisure products, communication engineering equipment, and automobile components.



The Innovation of Combined Processing Technology Improves Multi-Functionality and Focuses on Value Analysis

With the combination of a press and cutter, the combined press enables high-accuracy, complex three-dimensional processing, with increasing use in medical and manufacturing instrument fields. The technology allows us to provide manufacturers of assembled products with the essential value engineering and value analysis.



Incorporation of Press-related Technology Makes Batch Orders Possible

Nearly unlimited demand is expected for the two major components of mechanical elements, press and molding parts. With our exclusive knowledge of presses, we imbue the designs and construction of molds with new technology, which also contributes to reduced cost for the manufacturers of assembled products.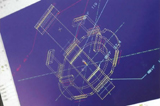 Creation of Mold Designs

The driving forces behind our array of accurate processing press technology are mold designs and mold production technology rooted in rich experience. Starting with the drafts from our customers, we create designs achieving the desired quality and affordability.



Quality and the Environment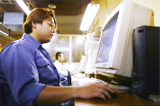 Each of the engineers at Kyowa Hearts works with confidence, maintaining high product quality. We deliver products with the assured quality established by ISO9001 certification, and product environmental quality meeting the guidelines of the JGPSSI (Japan Green Procurement Survey Standardization Initiative).